Franchise Management Module
Saibal SENGUPTA
Director
Hospitality professional with close to three decades of extensive experience of pre-opening, property integration, simulation, operations, management, projects and business development in national and international corporate owned / managed and franchise business leadership positions in the hospitality industry complemented with a resounding management education in the hospitality domain.Saibal has a broad continuumof experience including opening hotels, renovations, re-positioning hotels and assisting in brand growth and expansion. With a robust track record of building strong relationships with hotel owners, consulting companies and other partners, Saibal loves to accelerate brand growth in close collaboration with operations and development. He has always demonstrated his ability to enhance stakeholder value by enhancing market share and driving financial success with well-balanced quality footprints through operational excellence.Saibal's inclusion has always added fillip to the Business Owners and visionaries. In his past, Saibal has worked with reckoning brands namely Sarovar Hotels, HHI, ITC Hotels and JHM Interstate and has been heading the Operations' for the last 2 decades, as being one of the youngest General Managers' in the Industry. With a proven academic record, he has used the theory of hospitality to practice to ensure larger guest satisfaction and reduced the learning curve of the operations' team at all times
Shantanu Lahiri
Director
Shantanu Lahiri comes with an experience base of around 3 decades in varied Industry segments. Being Hotel Management professional, Shantanu went ahead and segmented the years of experience in fields of Quality & Food Controls, Operations, Marketing, IT &ITes, Education Institutions, Automobile Compliance for Dealers, Luxury Real Estate Projects including large to budgeted Hotel Projects, Malls, Healthcare Processes, Management of Financial relevance, Market Research, Investigative Audits – Operations & Marketing, Digital Marketing programs and most importantly indigenous Training Programs customised to each setup. Shantanu has acquired fair knowledge in Project Management during his stint with various organization namely Sarovar Hotels, Intertec Systems, ITC Hotels and White Lotus Hospitality; while serving for them. In addition to this, Shantanu has experienced Projects Advisory at different periods for M/S. JenoMaran Associates, Marriott Hotels and numerous individual project sites across the country. Shantanu launched the concept of White Lotus Advisory in 2012, as a Knowledge Management Firm that engages with Business "Entrepreneurs (EGRA) Growth & Risk Advisory". Being the key driver to execute Pan-India research on CXO for Business Management Knowledge initiative as registered Researcher for Frost & Sullivan, Shantanu has also taken keen interest to develop Businesses for Investors in varios state-based expansion programs. Being passionately involved in the healthcare Industry, Shantanu has amalgamated lot of Healthcare processes into the associate Industries that White Lotus Advisory offers their services to the Board of Directors & Investors, to enable secured and safe hygiene protocols. He has a judicious and incisive approach towards each Business Partner in developing their human resources as well as capital reserve, to ensure stability and growth of such business houses.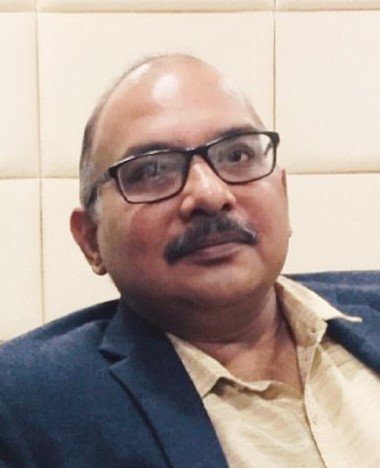 Matilal Satpati
Corporate Finance Controller
MatilalSatpati is an MBA in Finance and brings about almost 35 years in Finance Controls with best brands. He brings in a mix of Finance processes and controls under Uniform System of Hotel Accounting. With stints in Skyline NEPC Damania, Oberoi Hotels, Cox & Kings, HHI and Best Western Hotels Group, Matilal brings on board a perfect detailing of cost optimization in any operating unit and projects costing. From streamlining requisition to receiving processes, project costs to implementation of fund flows, cost controls to daily accounting procedures; Matilal has been quite successful in making a complete changeover to bring about the optimum Gross Operating Profit for the Hotel / Resort business. In the scheme of things, Matilal evaluates the budgets, variance, and taxation procedures for respective places, financial regulations pertaining to human resources, credit policy decisions and monitors the Unit Finance Team and constantly guides them to ensure the correct categorisation of expense heads with its relative values. Matilal has been an apt implementer of policies and procedures throughout his career which brings in a mix of Hospitality, Aviation and Travel sectors.
NANDINI GUPTA
Head – Business Development & Property Consultation
With a background in International Business Management, Nandini is a young and enthusiastic professional who is very passionate in building productive relationship with clients, business partners and team member to achieve top and bottom line results. Possessing powerful insight into data-driven global market analysis, she excels in customer acquisition and over the years has achieved exceptional results using winning combination of traditional and modern strategies incorporating database research, professional networking and cold calling campaigns. Based out of Dubai, Nandini heads Business Development at Intellect Hospitality.